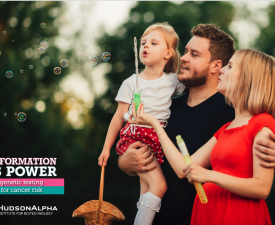 Hereditary Cancer Screening
Hereditary Cancer Testing Through Information is Power
Information is Power, offered by HudsonAlpha Institute of Biotechnology in collaboration with Kailos Genetics, has provided free or reduced-cost hereditary cancer risk testing to the Northern Alabama community since 2015. Information is Power uses the ExpedioTM Hereditary Cancer Screening Service to review 33 genes for genetic mutations that may increase your risk for cancer. You have been directed to this page because you've received a code to claim your Information is Power test free of charge.
INSTRUCTIONS
How to Collect Your Sample
Sample collection is easy and painless. Simply rub the inside of your cheek
with the sterile swab included in the collection kit and mail the swabs
to Kailos Genetics in the provided envelope. Results are released
to you and your physician within two weeks of sample receipt.
Genes Included in the Expedio™ Hereditary Cancer Testing Service

Each genetic variation screened has scientific evidence supporting an increased risk associated with breast, endocrine, gastrointestinal, genitourinary, gynecologic, hematologic, nervous system, soft tissue, bone, and skin cancers.
How to Claim Your Test
Add the Information is Power test (Expedio™ Hereditary Cancer Risk Test) to your cart using the button below. You will automatically be redirected to your cart. Enter your unique coupon code into the "Coupon code" box and click "Apply coupon". Your discount will be applied to your total.
Gain a Better Understanding of Your Hereditary Cancer Risk
Expedio™ Hereditary Cancer Risk Test
Frequently Asked Questions