5 Ways to Make Workers Feel Safe to Return to Work
March 2, 2021

Many aspects of daily life took a sudden and unexpected turn after the COVID-19 (COVID) pandemic reached the United States over one year ago.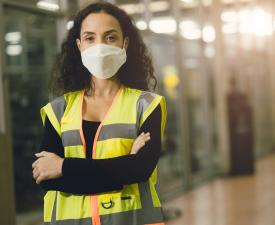 Workplace arrangements changed seemingly overnight for some employees, transitioning from a cubicle in a traditional office building to a small (and hopefully quiet) corner somewhere at home. With the availability of two FDA-approved and recommended vaccines and more in Phase 3 clinical trials, many employers are looking forward to getting employees back on-site. It may surprise some employers, however, that about half of professionals recently surveyed were fearful of returning to the physical workplace because of health concerns.1
Creating a safe work environment for employees during a pandemic isn't a trivial matter.  Thankfully, when it comes to the safety precautions required to minimize infection within the worksite, the recommendations of health experts often reflect the same measures employees indicate would make them feel safe upon returning to the physical workplace.  Here, we list five ways employers can make employees feel safe when they return to work, based on a recent survey of over 1,000 U.S. workers2 and the opinions of several leading health experts.3
1) Require all employees to wear a mask at work.
SARS-CoV-2 (CoV-2), the virus that causes COVID, is spread through respiratory droplets. Masks serve as a simple physical barrier that prevent the spread of respiratory droplets into the air. &By wearing a mask at work, employees are not only protecting themselves from CoV-2 infection, but also their coworkers.
2) Practice social distancing at the worksite.
Social distancing requires individuals of different households to remain six or more feet apart whether they are indoors or outdoors. Social distancing at the workplace may require the rearrangement of work and/or break areas to ensure proper distancing. For sites that have limited space, employee schedule changes may be necessary to accommodate social distancing.
3) Sanitize all workplace surfaces frequently.
We now know that CoV-2 doesn't commonly infect people through contact with contaminated surfaces.4 Despite this, COVID messaging regarding the decontamination of surfaces is often contradictory and the public has become accustomed to disinfection throughout the pandemic. Importantly, 39.4% of surveyed employees ranked this measure in the top three factors that would make them feel safe in the physical workplace.2
4) Encourage COVID vaccination amongst your employees.
The COVID vaccines approved by the FDA are both safe and effective at preventing CoV-2 infection. However, despite the fact that 27.2% of employees ranked requiring employees to get a COVID vaccination in their top three measures that would make them feel safe in the physical workplace, roughly half of all employees indicated in the same survey that they would consider leaving their job if their employer required them to get vaccinated for the disease. The study authors instead recommend that employers encourage their workforce to receive a COVID vaccination and indicate that employee incentives may improve cooperation.2
5) Provide on-site testing to detect and isolate pre- and asymptomatic COVID-positive employees.
One of the more daunting aspects of COVID is the large percentage of CoV-2-infected people that experience no symptoms and can spread the virus to others. Simply put, fever and symptom screening cannot adequately protect uninfected employees. Instead, employees must be regularly tested for CoV-2 infection via molecular (PCR) or antigen testing to detect and isolate asymptomatic cases. Workplace COVID testing programs, such as Kailos Genetics' Assure SentinelTM Program, can customize a testing strategy to efficiently fulfill each organization's specific needs.
Vaccines and personal protective equipment in hand, the U.S. seems to finally be gaining ground on a disease that has upended our daily lives and taken so much from so many. As we all look forward to a new normal and a return to some aspects of pre-COVID life, it is important to consider what steps we will need to take to reintroduce employees to a safe and functional workplace.  
Click here to learn more about the Assure SentinelTM program or contact us with any questions you may have regarding COVID-19 testing.