Genetic Counselors Facilitate Hereditary Cancer Screening
June 21, 2020
Hereditary cancer screening is a powerful clinical tool that has significantly evolved since the advent of next generation sequencing (NGS) technology. Modern screening tests sequence a single patient DNA sample for variations in a panel of hereditary cancer-associated genes for a little over $200, making critical insight into a patient's predisposed risk for cancer more accessible than ever before.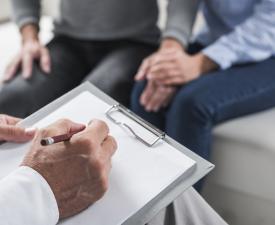 Over time, our understanding of pathogenic hereditary cancer gene mutations increases and the benefits of screening continue to grow. Surprisingly, about 50% of patients that harbor a pathogenic hereditary cancer mutation have no family history of cancer, extending screening usefulness beyond those patients with an established family history of disease. Additionally, hereditary cancer tests reveal a patient's specific pathogenic mutation, which enables the physician to develop monitoring protocols appropriate for that mutation. Furthermore, hereditary cancer tests report the increased risk of cancer or cancers associated with each deleterious mutation, providing the most current and up-to-date information to physicians when establishing preventative screenings and treatments.
Fortunately, physicians do not need to be experts in genetic testing in order to benefit from hereditary cancer screening. Genetic counselors provide critical pre-test and post-test counseling services aimed at choosing the best hereditary cancer test for each patient and assisting them with complex results. You can find genetic counselors in your area by visiting the National Society of Genetic Counselors website and performing a search that can filter by cancer type. A separate search through the same organization is used if telehealth visits are required. Counselors will contact the referring physician of patients that test positive for deleterious hereditary cancer mutations to provide current screening and management resources appropriate for their patient's specific mutation(s).
Physicians can prepare their patients for genetic counseling by recommending they assemble a family cancer history that records health information three generations back. There is a publicly available tool from the CDC that helps families construct a family health history and similar resources are available elsewhere on the internet. Additionally, patients should bring hereditary cancer screening results of any family members that have already been tested to provide the counselor with all relevant genetic information.
Genetic counselors can communicate with patients before and/or after genetic testing. Pre-testing sessions with counselors focus on the patient's family history of cancer to determine whether or not hereditary cancer screening is warranted. Post-testing sessions occur after a pathogenic mutation has been identified to discuss associated cancer risk and potential screening and management options the patient can consider with their healthcare provider. Importantly, genetic counselors are not physicians, and counselors refrain from offering medical advice. Patients are referred back to their physician for all screening and treatment plans.
Hereditary cancer screening has never been as easy or as accessible as it is today, and genetic counseling services make the process less intimidating and more insightful for both patients and physicians. Kailos Genetics' Expedio™ Hereditary Cancer Screening test is an inexpensive, easy-to-use test that is ordered by the patient and authorized by the physician. Buccal cell sample collection is performed by the patient with a kit shipped directly to their home. Results are released to the physician's office within two weeks after sample receipt and released to the patient two days later. Additionally, our test is direct-pay, with no insurance billing required. Kailos is committed to putting the power of genetic testing within the reach of every patient and their physician.