How to Honor the Survivors in Your Life on National Cancer Survivors Day
June 2, 2021
For those of us that don't have a personal history of cancer, it's easy to overlook the fact that cancer survivors can face a variety of challenges after overcoming the disease.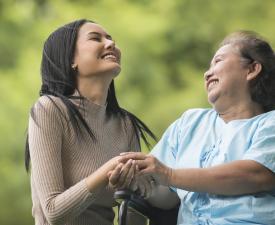 On the first Sunday of every June, the National Cancer Survivors Day (NCSD) Foundation1 organizes a day to honor survivors and people living with cancer, raise awareness of quality of life issues facing many current cancer survivors, and ultimately, celebrate life. This year, the 34th annual National Cancer Survivors Day is Sunday, June 6th. Festivities may look different because of the COVID-19 pandemic, but online, socially distanced, and social media events are available to help people connect, honor, advocate and celebrate.
Overcoming cancer is often only one of a series of battles for cancer survivors and their families. While a great deal of attention is paid to defeating cancer, there is less awareness regarding quality of life issues once a patient is in remission. Depending on the treatments a patient has undergone during the course of their cancer treatment, a survivor's quality of life may significantly change by the time they are cancer-free. In addition, survivors may be faced with:
physical and/or emotional changes or struggles
inadequate insurance coverage 
rising prescription costs
issues obtaining and maintaining a job
While this list is by no means complete, it offers those without a personal history of cancer some idea of the challenges many cancer survivors experience.
The NCSD Foundation is a non-profit organization focused on increasing awareness of struggles cancer survivors face and improving survivors' quality of life. The foundation accomplishes this by providing resources and expertise to hospitals, support groups, and other organizations hosting official celebrations. Laura Shipp, spokesperson for the NCSD Foundation, adds: "As many survivors will tell you, the effects of cancer don't end when treatment does. Cancer survivors face ongoing, often long-lasting, hardships because of their disease. On National Cancer Survivors Day, we want to raise awareness of these challenges of cancer survivorship. NCSD is a Celebration of Life, but it is also a call to action for further research, more resources, and increased public awareness to improve the lives of cancer survivors."
Advances in cancer treatments and screenings have improved the survival rates for nearly every form of cancer. Additionally, current genetic screening tests are capable of diagnosing hereditary cancer syndromes in people before or after a cancer develops, facilitating both personalized disease monitoring and risk mitigation. Because of these improvements in cancer detection and treatment, the challenges facing cancer survivors are affecting more people than ever before. Patient quality of life is a significant concern during the treatment of cancer and should be equally important after a cancer is in remission.
Mark your calendars for National Cancer Survivor Day on Sunday, June 6th. You can find online and socially distanced NCSD events in your local community by visiting the NCSD website at ncsd.org. You can also connect through social media at the hashtag #NCSD2021 and by following National Cancer Survivors Day on Facebook, Instagram, and Twitter. It is a great opportunity to connect and honor the survivors in your life while raising awareness of challenges cancer survivors face outside the clinic.
Kailos Genetics developed the ExpedioTM Hereditary Cancer Screening to screen 33 genes for variants associated with hereditary cancer syndromes and an increased risk of developing cancer. Click here to learn more about ExpedioTM, or contact us with any questions you may have regarding genetic screenings.
1National Cancer Survivors Day Foundation. National cancer survivors day 2021 brings together cancer survivors, local communities, to raise awareness of survivorship issues. Accessed May 25, 2021. https://ncsd.org/ncsd-2021-press-release/