How Recovered COVID Patients Can Help Treat Others
February 3, 2021
COVID-19 (COVID), the disease caused by the SARS-CoV-2 (CoV-2) virus, emerged as a global pandemic at the end of 2019.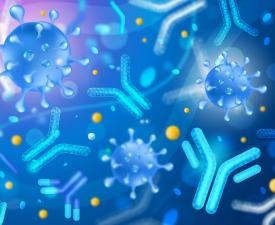 Importantly, the novelty of the CoV-2 virus meant that no U.S. Food and Drug Administration (FDA)-approved therapies were available to treat COVID when the virus arrived in the United States, leaving healthcare providers with few options for effectively treating the disease. And while stockpiles of experimental therapies and PPE were dwindling early in the pandemic as doctors and nurses struggled to treat severely affected patients, a different kind of resource was becoming more plentiful as the pandemic raged on: recovered COVID patients.
Health experts suspected that recovered COVID patients may be able to help other patients overcome COVID because of the way our immune systems work. Over the course of a viral infection, the human body mounts a series of immune responses designed to isolate and destroy harmful, foreign pathogens. One of these responses, the adaptive immune response, is capable of creating small proteins, called antibodies, that can bind specifically to a foreign pathogen and neutralize it, among other things. Once the body has recovered from infection, the antibodies the adaptive immune response produced in response to the pathogen remain in the bloodstream, providing the body protection from reinfection with the same pathogen. Remarkably, these antibodies can actually be administered to another person to help prevent or fight an infection caused by the same pathogen. This form of passive immunotherapy, convalescent plasma therapy, has been used since the 19th century with a variety of different diseases, including diphtheria, the 1918 Spanish flu, respiratory syncytial virus (RSV), ebola and severe acute respiratory syndrome (SARS).1

With so few treatments available during the early stages of the pandemic, convalescent plasma was an obvious candidate for experimental COVID therapy. The FDA approved an Emergency Use Authorization (EUA) for convalescent plasma in patients hospitalized with COVID in August of 2020,2 as the benefits of therapy outweighed the risks in patients with severe disease. The ongoing pandemic has thus far prevented the design and implementation of a large, well-controlled clinical trial of convalescent plasma therapy for COVID, leaving many questions as to the true effectiveness of the therapy and how best to administer the treatment. Despite this, research laboratories are investigating the same convalescent plasma to determine not only which antibodies function best at tackling CoV-2, but why.
Recently, a group of researchers from the California Institute of Technology in Pasadena used cryo-electron microscopy, a technique capable of resolving biomolecular interactions at the atomic scale, to determine how neutralizing antibodies in the convalescent plasma of recovered COVID patients can prevent the CoV-2 virus from binding to human angiotensin-converting enzyme 2 (ACE2) receptors and infecting cells. The researchers found that antibodies that do a particularly good job of preventing CoV-2 infection physically bind to the receptor binding domains (RBDs) of spike proteins that dot the surface of the virus. By binding to these domains, antibodies block CoV-2 from binding to ACE2 receptors, preventing the virus from entering and infecting cells. Strategically, the team has identified a specific antibody that prevents virus binding to human ACE2 receptors at all three RBDs of each virus spike protein, providing an excellent candidate for future synthetic COVID antibody therapies.3
As the country continues its rollout of COVID vaccines, additional therapies are required to combat disease cases that are still occurring today.  Currently, supplies of convalescent plasma are dwindling throughout the country as the nation continues to grapple with an increasing number of COVID cases,4 and synthetic antibody treatments, such as the therapy developed by Regeneron, are also being used under an FDA EUA. Health experts are concerned, however, by the recent emergence of more infectious variants of CoV-2 that may be able to evade current antibody therapies developed for or originating from strains of the virus that were more prevalent earlier in the pandemic,5 further emphasizing the need for prompt vaccination as the virus evolves over time.
During these interim months before herd immunity is achieved through COVID vaccination, infection prevention will remain one of our most important strategies for minimizing future infections and the strain on our healthcare system. Fortunately, we all have some control over basic virus mitigation, such as mask wearing, social distancing and hand washing, and can actively do our part to reduce virus spread. And now, at a time when so many people are looking for ways that they can make a difference in the lives of others, COVID survivors can perhaps provide the ultimate gift to the most critically ill COVID patients: their antibodies.
To learn more about where to donate COVID-19 convalescent plasma, visit this website:  https://thefightisinus.org/en-US/home#home. Kailos Genetics has developed a fully customizable, oral rinse-based COVID-19 testing program, Assure SentinelTM, to allow organizations of any size to operate safely during the pandemic. Click here to learn more about our sentinel testing program or contact us with any questions you may have regarding COVID screening.
 1Katz, Louis M.  (A little) clarity on convalescent plasma for covid-19.  New England Journal of Medicine.  January 13, 2021.  https://www.nejm.org/doi/full/10.1056/NEJMe2035678

  2U.S. Food and Drug Administration.  FDA issues emergency use authorization for convalescent plasma as potential promising COVID-19 treatment, another achievement in the administration's fight against the pandemic.  August 23, 2020. https://www.fda.gov/news-events/press-announcements/fda-issues-emergency-use-authorization-convalescent-plasma-potential-promising-covid-19-treatment

  3Collins, Francis.  Caught on camera: neutralizing antibodies interacting with SARS-CoV-2.  December 3, 2020. https://directorsblog.nih.gov/2020/12/03/caught-on-camera-neutralizing-antibodies-interacting-with-sars-cov-2/

  4CBS News.  Shortage of convalescent plasma as cases of COVID-19 surge.  January 19, 2021.  https://www.cbsnews.com/news/covid-convalescent-plasma-shortage/

  5Centers for Disease Control and Prevention.  New COVID-19 variants.  January 15, 2021.  https://www.cdc.gov/coronavirus/2019-ncov/transmission/variant.html