How Sentinel Testing Can Keep Your Organization Safe
November 2, 2020
There are few, if any, aspects of daily life that haven't been altered in some way by the COVID-19 (COVID) pandemic. Whether we are grocery shopping or visiting the clinic, virus mitigation measures such as social distancing and mask wearing have been added to our routines to defend against a health threat we cannot see.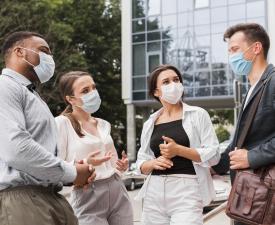 And despite all of the upheaval and uncertainty over time, one point has become increasingly clear: fast, regular and accurate SARS-CoV-2 (CoV-2), the virus that causes COVID, testing is vital for virus containment and the safe reopening of schools, government offices and businesses. The goal of regular testing is to identify and quarantine infected individuals at the earliest possible point in the virus infection cycle to:
decrease the number of asymptomatic individuals on site that may be infectious, or could spread the virus to someone else, and would not otherwise get tested,
 
reduce the number of presymptomatic individuals on site that would otherwise be tested after they became infectious and 
 
lower the number of infectious individuals on site by detecting and quarantining CoV-2-positive individuals before they become infectious.
Two critical barriers to regular, large-scale COVID testing are affordability and speed, such that large organizations may be faced with high costs and long reporting times when testing every employee at their site. Long delays between sample collection and test reporting, in particular, render testing almost worthless when the incubation period for CoV-2 can be as little as two days before symptoms occur.1 Importantly, infected individuals can be infectious during the presymptomatic incubation period and unknowingly spread the disease to others.
One way to address the speed and affordability issues associated with organizational testing is to take a broader approach to COVID screening. Where regular testing of every individual at a work site may be cost-prohibitive or impractical for large-scale operations, sentinel testing offers an excellent alternative. The sentinel testing approach regularly tests random, changing samples of an entire population, such as students and personnel at a university campus or warehouse employees, to quarantine infected individuals and assess the overall infection rate of the population. Depending on a number of variables, including population and sampling sizes, community infection rate, public exposure and the rate of testing, CoV-2 infections can be reduced by up to 95% when using the sentinel testing approach,2 which could ultimately mean the difference between maintaining and suspending operations during the pandemic. Additionally, accurately calculating the overall on-site infection rate can help organizational leaders make informed decisions regarding the effectiveness and appropriateness of various mitigation measures.
Sentinel testing results in other, less quantifiable benefits as well. As the entire world is learning to adjust to a new normal filled with uncertainty and risk, concerns over personal safety can directly affect an individual's choices and productivity. University COVID testing may make students more apt to register for spring semester and site wide testing at a local processing plant may improve employee morale and reduce turnover. Ultimately, fast, accurate and regular COVID testing can provide critical certainty during the most uncertain of times.
The fully customizable Kailos Genetics AssureTM Sentinel COVID-19 testing program was designed to decrease the cost and turnaround time associated with testing workforces and organizations of any size. Click here to learn more or contact us with any questions you have about the program.
1Centers for Disease Control and Prevention. Clinical questions about COVID-19: questions and answers. https://www.cdc.gov/coronavirus/2019-ncov/hcp/faq.html

2Kailos Genetics Internal Data.  Data available upon request.