National Black Family Cancer Awareness Week: 5 Things to Know about Cancer Risk in Your Family
June 21, 2021
Genetic variation between races can contribute to differences in cancer incidence and survival rates, but research has consistently shown higher cancer rates and poorer outcomes for black people for the majority of cancer types.1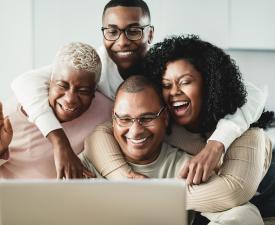 Racial disparities in healthcare access, education, and affordable housing, among others, likely play a significant role. In order to raise awareness of cancer as a disease and the incidence and outcome disparities that exist in the black community, the Food and Drug Administration Oncology Center of Excellence scheduled the first National Black Family Cancer Awareness Week this June 17-23, 2021.2 In recognition of this event, we highlight five facts about cancer risk and prognosis affecting black families and what steps can be taken to mitigate increased cancer risk.
Of any race or ethnicity, black people in the United States have the lowest survival rate for most cancers.1
A recent colon cancer study by the Centers for Disease Control and Prevention (CDC) revealed that black people diagnosed with colon cancer had worse 5-year survival rates than white people that were diagnosed with the same disease 15 to 20 years ago, when treatments weren't as advanced. Survival rates additionally varied by state. The study results suggest that screening and treatment accessibility varies by both race and geographic location and emphasizes the need for accessible, high-quality, universal screening and treatment services.3
Compared to white women, black women are 40% more likely to die from breast cancer and twice as likely to die if they are over the age of 50.1
One research study found that black women diagnosed with breast cancer today that were born in a Jim Crow state, or a Southern state with legalized racial discrimination, have an increased risk of estrogen-receptor (ER) negative tumors. ER negative breast cancers are not only more aggressive, but also less responsive to traditional chemotherapy treatments. The researchers speculate that economic disadvantage, environmental hazard exposure, and lack of accessible health care contribute to the increased risk.4
African American communities have a higher risk of being diagnosed with cancers that have spread and have higher breast and lung cancer death rates.1
David R. Williams, Florence Sprague Norman and Laura Smart Norman Professor of Public Health at Harvard T.H. Chan School of Public Health, implicates racial segregation as a primary driver of health inequities. Black neighborhoods experience more air pollution and have less access to supermarkets and medical specialists compared to other neighborhoods.4
Black men experience cancer death rates that are two times higher than Asians and Pacific Islanders, who have the lowest rates of cancer death.1
The research is unclear as to whether or not overall increased death rates in black men can be attributed to socioeconomic status.5 Genetic variation between different races may account for some differences in cancer survival rates, but socioeconomic factors likely also play a role. Access to healthcare has improved for black people in the United States with the Affordable Care Act, but social factors continue to significantly impact the health and well-being of the black community. Persistent inequalities in economic opportunities and education and abuse experienced through racism undoubtedly affect health outcomes and illness over the course of a lifetime.6
Roughly 33% of African American women reported discrimination during a patient care visit.1
While this fact isn't related strictly to cancer, it significantly impacts cancer patients. In order to reconcile racial disparities in healthcare outcomes, it is critically important that patients in marginalized communities are heard by their healthcare providers and their concerns taken seriously. Structural, or ingrained, racism was first recognized in the 1980s, and despite efforts by government initiatives to close racial gaps, differences still exist in income and access to healthcare, affordable housing, healthy food, and a quality education. Increases in hate speech in recent years motivated a group of physicians to write an open letter to patients expressing their view of health as a human right in an effort to reassure people of color and the LGBTQ community.7
While black Americans experience higher rates of cancer, there is hope: Today, not every cancer diagnosis is a terminal illness. Cancers detected at earlier stages are typically more easily treated and cured, and regular cancer screenings promote earlier cancer detection.  Patients with a family history of cancer should share their family history with a physician in order to assess their genetic risk.  If your physician feels that your genetic risk is significant, you may be referred to a genetic counselor for genetic screening to determine if you harbor genetic variants that may increase your risk of developing specific types of cancer.  Because of the greater risk of poorer health outcomes in the black population, it is paramount that black patients begin cancer screenings at the appropriate age and regularly repeat screenings according to their level of disease risk.   In terms of cancer survival, choosing to be proactive about cancer screenings can truly be a life or death decision.
You can participate in the National Black Family Cancer Awareness Week campaign by using the hashtag #BlackFamCan when you post on social media. Kailos Genetics developed the ExpedioTM Hereditary Cancer Screening to detect pathogenic variants in 33 genes associated with hereditary cancer.  To learn more about ExpedioTM, click here, or contact us with any questions you may have regarding genetic screenings.