Should You Be Tested After Possible Exposure to COVID-19?
December 8, 2020
As the COVID-19 pandemic has evolved, state and federal recommendations for COVID-19 testing, isolation and quarantine have changed somewhat over time, leaving many people confused about what actions to take and for what duration.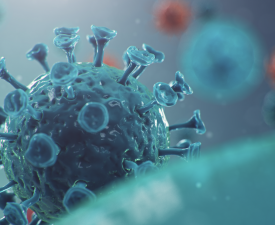 Here, we outline current Centers for Disease Control and Prevention (CDC) testing, isolation and quarantine guidelines as they currently stand and which recommendations may change in the near future.
A person must have close contact with someone who is sick with COVID-19 (COVID) in order to develop the disease. So what constitutes "close contact" with someone that has COVID? The CDC defines close contact as one or more of the following:
             ●    Being within six feet of someone who is sick with COVID for a total of 15
                     minutes or more over a 24-hour period 
             ●    Caring for someone who has COVID
             ●    Hugging or kissing someone who has COVID
             ●    Sharing cups or other eating utensils with someone who has COVID
             ●    Having someone who has COVID sneeze, cough or spray respiratory droplets
                     on you
Importantly, individuals that have COVID will likely be infectious before they show symptoms, so an infected person is considered infectious two days before he or she develops symptoms until the end of their isolation period.1
Currently, the CDC recommends that people who have COVID symptoms, have been in close contact with someone with confirmed COVID, or have been referred for testing by a medical professional consider getting tested for the disease.2 Testing guidelines may vary by state and city. Individuals that undergo testing should do so at least five days after the last close contact with a person with confirmed COVID to reduce the possibility of a false-negative (test reports a negative result when the person is infected) result.3 People waiting for test results are advised to quarantine until they receive results and follow the advice of their healthcare provider in order to prevent spreading the disease to others.2 The CDC does not recommend that individuals who have recovered from COVID get retested for COVID within three months after the date of symptom onset unless COVID symptoms redevelop.4
If you test positive for COVID, you need to isolate yourself from others to protect them from getting sick. According to the CDC, if you had COVID symptoms, your isolation period can end when all of the following criteria have been met:
              ●    Ten or more days have passed after symptom onset
              ●    You have been fever-free without fever-reducing medications for at least 24
                      hours
              ●    Other COVID symptoms (excluding loss of smell and/or taste) are improving
The loss of smell and/or taste due to COVID can last for several months and are not a good indicator of disease recovery. If you tested positive for COVID but did not have symptoms, you may end isolation 10 days after your positive test result. Importantly, immune-compromised individuals may require more time before they leave isolation.5
Currently, the CDC recommends that any person who comes in close contact with a person with confirmed COVID quarantine for 14 days after their last close contact with the infected person.1 There have been recent reports that the CDC may soon reduce the quarantine time to seven to 10 days for those that then test negative for COVID.6
As our understanding of the novel coronavirus has increased, our approaches to testing and virus containment have become more strategic, lowering the number of false-negative test results and providing quarantine and isolation guidelines designed to reduce the amount of the virus in public spaces. The present COVID surge in our country makes our collective awareness, compliance and vigilance paramount to bringing the pandemic under control.
Kailos Genetics developed the economical and fully customizable Assure SentinelTM COVID testing program to help organizations of any size operate safely during the pandemic. Click here to learn more about the program or contact us with any questions you may have about our COVID testing services.


1Centers for Disease Control and Prevention.  When to quarantine.  https://www.cdc.gov/coronavirus/2019-ncov/if-you-are-sick/quarantine.html  Accessed November 27, 2020.

2Centers for Disease Control and Prevention.  Testing for COVID-19.  https://www.cdc.gov/coronavirus/2019-ncov/symptoms-testing/testing.html  Accessed November 27, 2020.

3Minnesota Department of Health.  COVID-19 testing.  https://www.health.state.mn.us/diseases/coronavirus/testsites/index.html  Accessed November 27, 2020.

4Centers for Disease Control and Prevention.  Duration of isolation and precautions for adults with COVID-19.  https://www.cdc.gov/coronavirus/2019-ncov/hcp/duration-isolation.html  Accessed November 27, 2020.

5Centers for Disease Control and Prevention.  Isolate if you are sick.  https://www.cdc.gov/coronavirus/2019-ncov/if-you-are-sick/isolation.html  Accessed November 27, 2020.

6Stein R and Neuman S.  CDC likely to recommend shortening coronavirus quarantine period.  NPR. https://www.npr.org/sections/coronavirus-live-updates/2020/11/25/938744923/cdc-likely-to-recommend-shortening-coronavirus-quarantine-period