Why We Need Different COVID Tests to Improve the Health of Populations
January 19, 2021

The onset of the COVID-19 (COVID) pandemic spurred the development of a wide variety of testing platforms to detect SARS-CoV-2 (CoV-2, the virus that causes COVID) infection.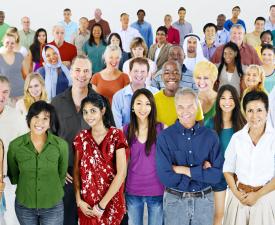 Molecular-based, rapid antigen, and antibody tests have since entered the market, with each platform demonstrating clear advantages and disadvantages over their testing counterparts. Over time, it has become clear that each testing method can play a critical role in improving the CoV-2 infection rate and the health of populations if we leverage the advantages of each platform rather than relying on a single methodology as a one-size-fits-all solution.
This point was highlighted in a recent New England Journal of Medicine (NEJM) article, where researchers explained that compromising on COVID-19 testing sensitivity, or the ability of a test to accurately identify individuals with a particular disease, can ultimately lead to cheaper, more frequent testing and faster isolation of pre- or asymptomatic COVID-infected individuals to more effectively break the disease transmission chain.1 COVID tests with 95% sensitivity, for example, will detect CoV-2 infection in 95 out of every 100 patients that have the disease. By compromising and using a test with 90% sensitivity, 90 out of every 100 COVID-infected individuals will be detected.
There are two COVID testing methods capable of detecting current CoV-2 infection: molecular- and antigen-based. Molecular-based tests, including the "gold standard" PCR-based COVID test, identify infection by detecting CoV-2 genome. These tests have very high sensitivities but a slower turnaround time of around one to three days. In contrast, rapid antigen tests, the most common form of rapid COVID testing, have a turnaround time of minutes rather than days and cost significantly less than molecular-based tests. The speed and cost savings of the rapid antigen tests are offset, however, by their lower sensitivity and greater chance of missing infections in individuals with the disease compared to molecular-based tests.  
The high sensitivity COVID tests used to detect infection early in the pandemic were likely detecting only about 10% of the actual number of infected people in the population, according to Centers for Disease Control (CDC) estimates in June of 2020, because of the low number of tests performed at the time.2 The authors of the NEJM article argue that while lower sensitivity tests would allow a percentage of infected individuals to go undetected, testing populations more frequently and on a larger scale with tests that have quicker turnaround times would equate to the faster isolation of more infected individuals overall than testing with more sensitive methods that have longer turnaround times. Faster isolation of more pre- and asymptomatic COVID-infected individuals, in particular, would decrease the amount of exposure uninfected members of the population have to CoV-2 and would likely decrease the overall infection rate. Importantly, the researchers stress that high sensitivity, or molecular-based, COVID testing methods are an important complement to rapid COVID tests as high-sensitivity diagnostic tests are still required to more definitively detect CoV-2 infection in symptomatic patients.
Ultimately, for COVID testing to significantly improve the health of a population, tests must have short turnaround times to isolate infected individuals as quickly as possible. Testing within the healthy population is also required to detect pre- and asymptomatic infections. One way to test healthy populations is through surveillance testing, or sentinel testing, where a different random sample of a population is regularly tested for infection to both isolate infected individuals and monitor the level of infection within the population. Kailos Genetics has developed a fully customizable oral-rinse COVID-19 sentinel testing program, Assure SentinelTM, that streamlines molecular-based testing turnaround times to allow organizations of any size to operate safely during the pandemic. Click here to learn more about Assure SentinelTM or contact us with any questions you may have regarding COVID-19 testing.
1Mina, M.J. et al. Rethinking Covid-19 test sensitivity--a strategy for containment.  New England Journal of Medicine.
https://www.nejm.org/doi/full/10.1056/NEJMp2025631?utm_content=buffer4fca1&utm_medium=social&utm_source=twitter.com&utm_campaign=buffer

2Center for Disease Control and Prevention.  Transcript for the CDC telebriefing update on COVID-19.  June 25, 2020.  https://www.cdc.gov/media/releases/2020/t0625-COVID-19-update.html